Let's meet the participants of 19. Youth film festival and 7.Four River Film Festival
Vanima - masters of animation are back!
Varaždin is known as a baroque town, but it could become the city of film if we take into account that this association where young artists create is active since 1986. Especially since they make animated films! In film creative studio Vanima more than three hundred children made around two hundred films in groups which follow the school year, and their leader Hrvoje Selec explained what they are bringing to our yellow festival.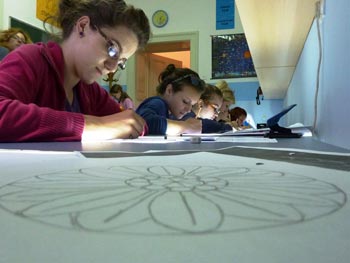 You arrive with two films this year. What are they about?
This year for the first time VANIMA has a film in the free category of the competition program and it is a music video for the song of Overflow, "Dead mate XXX (when the night calms all down)." The music video was made by our long-time member Karla Skok. In the category of animated films we have our film "Love metamorphosis" which entered the competition.
You are experts in animated film. Do you expect a lot from your animated film "Love metamorphosis"?
We are pleased that our animated film is in the competition again because this is recognition of our work and continuity, but the jury will decide. The film "Love metamorphosis" is the second work of the young artist Petra Cesarec, and she found inspiration in the style of the Italian master of animation Osvaldo Cavandoli (La Linea).
Last year you participated as well in our yellow festival. And you are back this year! Is this some kind of chemistry? :)
This is our fifth participation at the festival in Karlovac, and it's already become more than chemistry :)
Since 2010 you've been organizing Animation Film Festival VAFI. How talented are the new generations in the terms of film?
In April this year we had the fifth edition of VAFI festival and more than a hundred guests visited us. This year classical animation prevailed. Generations are getting more and more talented which is evidenced by the fact that it is very difficult to enter the official competition because there are many quality films.
Is there a future for animated film or for the authors of these films in Croatia?
There is definitely a future for animated film in Croatia. We are pleased with the fact that these days three of our members are preparing for the entrance exam at the Academy of Fine Arts in Zagreb, Department of animated film and new media. We will keep our fingers crossed! :)