Let's meet the participants of 19. Youth film festival and 7.Four River Film Festival
Photo cinema video club Zaprešić: We feel like home in Karlovac!
Photo Video Club Zaprešić known as FKVK Zaprešić is one of the greatest friends of and Four River Film Festival. This year, they have sent in five films, four of which will compete at Youth Film Festival. Knowing them, they could come back with an award! We talked with their leader Jadranko Lopatić about their achievements, but also expectations.
You have a couple of films at this year's Four River Film Festival and Youth Film Festival. What do you expect from this year's festival?
To have fun and see many great films.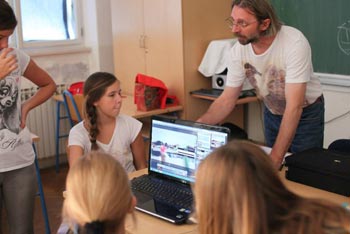 Tell us briefly about this year's films which have entered in the competitive part.
We have two feature films at the Festival: "Portrait", a film where a girl shows the state of her psyche by working on a painting, and "Catalyst", a humorous presentation of lectures about the harmfulness of drugs in high school. Then there is a documentary, "Paw", the story about an asylum for abandoned animals in Dubravica close to Zaprešić, and finally we have an animated film, "Annabel Lee", which was inspired by Edgar Allan Poe's poem of the same name.
Where do your young film lovers get ideas for their films?
Getting an idea for a film is an integral part of tasks for each group of authors and it is the first step in making the film. Each group has a different approach to it, sometimes it's "brainstorming", sometimes it's immediate inspiration, and sometimes it's a long search for the 'holy grail'.
You've been working with young filmmakers and artists for a while now. What changes can you see through the generations?
It is clear that technical literacy is growing with time but also the expectations of young people. Young people of today grew up on films of high (read Hollywood) production with all the positive, but also negative connotations that arise from this.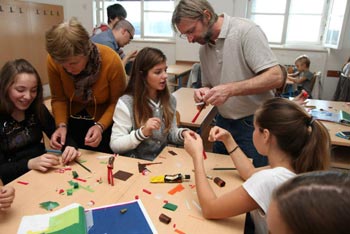 You've been coming to Karlovac for years. What do you like in Karlovac?
First of all, the young, cheerful, capable, yellow team that pushes the whole festival delights us every year, the whole impression of nonchalance, yet highly professional organization and implementation. And then there's the rest of the city, the four rivers, friends, movies, socializing, fun... Not to mention that Karlovac is close to us so we feel like home.
19th Youth Film Festival and 7th Four River Film Festival will be held in Karlovac from June 17 to 21. See you there!