Presentation of Youth Film Festival and Four River Film Festival at Scala Youth Film Festival in Wales!
After a presentation at Fresh Film Festival in Ireland, the main Croatian event of high school film, the Youth Film Festival, and its international counterpart, the Four River Film Festival, last weekend partnered up with the Scala Film Festival from Wales and presented its work at their festival.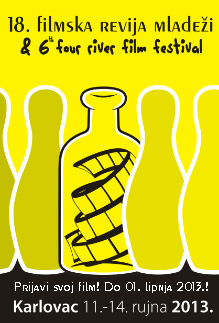 At the invitation of the organizers of Scala, a festival dedicated to all filmmakers aged 11 to 16, three films that were the highlight of last year's YFF and FRFF were screened in Wales: Grand Prix winner, Elton and Elza, directed by Thijs De Block, a Belgian fiction film about an intriguing relationship between a young man and an elderly woman, Lebanese documentary Behind the Tents, by Jude Chehab, which focuses on the daily lives of Lebanese children literally showing what goes on behind the tents, while Croatian youth film was represented by Nina ╚orak from the Cinema Club Karlovac and her documentary Say K for Kino, Say K for Karlovac, about the five-year-long struggle of the residents of Karlovac to bring back a regular cinema to their town. The audience in Wales particularly responded to it because their town of Denbighshire, where the festival is held, went through a very similar ten-year-long process to finally reinstitute a cinema in their town. The young audience in Wales seemed thrilled by what they saw so we are sure to expect Welsh films in this year's YFF and FRFF programme.
Back home, the preparations for the 18th Youth Film Festival and the 6th Four River Film Festival, organized jointly by the Croatian Film Association and the Cinema Club Karlovac, to be held September 11th to 14th, are well under way. The deadline for international entries is May 15th and June 1st for Croatia. More information can be found on the organizer's website: www.hfs.hr
28. 3. 2013