Bruno Mustić, winner of last year's YFF makes first feature "Music Box"
The filming of feature film Music Box ended last week in Split. It is the first feature film made by 17-year-old director Bruno Mustić whose short "Red Handed" won an award for best Croatian fiction film at last year's Youth Film Festival in Karlovac.
The renowned film cast is led by legendary Croatian actress Dara Vukić, followed by Robert Kurbaša and Ana Gruica who play a married couple in the film, while this is the film debut for Zrinka Svetić who stars in the role of their troubled daughter.
-I am extremely pleased that all the actors who were my first choice agreed to participate on the project. I am grateful to them for treating me like an equal and their experience helped me a great deal during the filming – said Mustić, whose film is currently in postproduction and was shot during December and January at locations around Split and the island of Brač, also thanking the Centre for Culture of the Island of Brač and the Tourist Board of the towns of Supetar and Milna for providing free accommodation and set organization.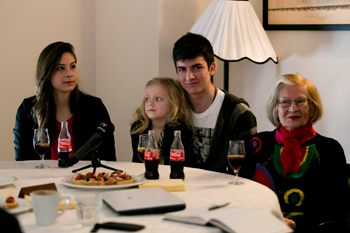 Music Box is scheduled to come out in the summer of this year.
-Actress Dara Vukić is also looking forward to the premiere. Unfortunately, my husband was in bad health during the filming so I'm still not sure how I managed to play my part. I can't wait to see the final result because it was a real pleasure being involved in the film's making. Bruno is a great discovery for me, he is only 17 and he is doing great work. I worked with amateur directors in the past, but a few minutes ago I saw the first trailer for Music Box and I'm thrilled. It's looking better than I hoped for.
After numerous parts in the theatre and several film appearances, this is the first feature film role for actress Ana Gruica.
-Even though people keep saying Bruno is very young, I don't think that is very relevant. He is a great professional and he won my trust after the first meeting. I was also drawn by the cast, it was an honour to come from the theatre and work with the great Dara Vukić – said Gruica who had no problem identifying with her daughter in the film adding that she herself was a bit rebellious as a teenager.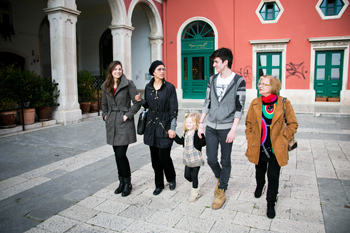 -I'm glad a film, especially a feature one, was made in Split with a crew from Split. I'm confident the final result will be excellent – said Gruica.
Music Box was made independently, while the entire film cast and crew volunteered their work so the actors, the director, scriptwriters, technicians, cinematographers, editors and sound mixers all worked for free.
Youth Film Festival and Four River Film Festival have once again proved to be the starting point and source of young cinematic talent. The next edition is held September 11th to 14th in Karlovac, and who knows, maybe it reveals a new talent like Bruno's.
25. 2. 2013