THIS YEAR KARLOVAC WON'T ALLOW THAT FILM TALENT REMAINS IN THE DARK! IT WILL BE PRESENTED ON THE YELLOW CARPET!
19th Youth Film Festival and 7th Four River Film Festival, an international event dedicated to high school film begins in a few days. From June 17 to 21 Karlovac will become yellow again, but this time it will not be only in downtown but literally on all four rivers, as the festival name says itself. Marija Ratković Vidaković, coordinator of the festival and Ksenija Sanković, production assistant, explained at today's press conference that took place by the river-bank of Kupa in restaurant Kvaka how and why the organizers, the Croatian Film Association and Cinema Club Karlovac, decided to push the boundaries and move the film screenings to various urban and rural swimming areas.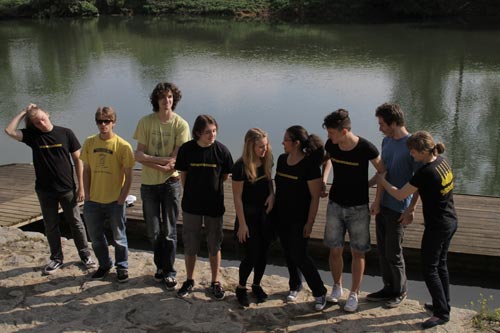 Enjoying in Karlovac Zorin dom Theatre has already become a tradition for young film enthusiasts whose films entered the festival competition because it is the main festival site. Of the 365 films from 30 countries, which will be screened at the festivals, and which is a record for the festivals, 80 of them will be screened at Zorin dom. The organizers did not want to spoil the tradition, so they just added to it. "In the evening program we decided to show not only goof films, but also the four most beautiful things in Karlovac, our four beauties. Thus, on June 17 Kupa River will, at least for a moment, transform into a film stage where the official opening of the festival accompanied by a welcome DJ party will be held. The second day young filmmakers and other film lovers will be moved to Korana River, which will host the already famous program "Once laureates of the festival, and today?". In this program former winners of the festival who have since then been successfully swimming in the professional film industry will be presented. The second evening will be dedicated to the editor Maida Srabović. Apart from her successful films, the gathered audience will have the opportunity to watch feature film 'Going our way' by the Slovenian director Miha Hočevar, the most viewed Slovenian film in the past decade. The third night of the festival moves to the Dobra River. On our coldest river, at the beach of Grdun, Luka Hrgović, an experienced visual artist and animator who won at the festival ten years ago will be presented from 9.30 pm. After that, all eyes will be focused on the documentary Disconnected by Melody Gilbert, a sort of documentary research project that talks about life without computers following the lives of three students who eventually begin to understand and deal with things that do not involve computers - things that have been neglected for a long time. Mrežnica will be the last river! The public beach in Duga Resa will serve us for the closing ceremony of the festival, and most importantly, for giving out the awards to our competitors, Marija Ratković Vidaković explained.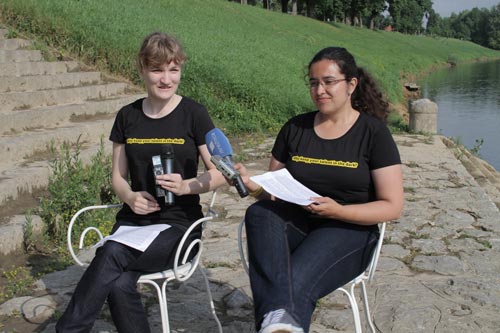 As this year's whole visual identity is dedicated to light, Karlovac will not allow that film talent stays in the dark. Guided by this fact there will be a yellow carpet (we think you all know why not red)! Every day the yellow carpet will be put in front of City Theatre Zorin dom and young high school filmmakers will walk on it, but that will be just an introduction for the evening gala event. In the evening screenings already famous film stars (who they are is a surprise) will present new young film stars who proved that they indeed deserve to step out into the limelight and that one day we could see them on big movie screens, on paparazzi photos of and in international films. Thus, every evening a different host star will be on the yellow carpet – and will then present upcoming talents - future Croatian celebrities of film.
And while some will just watch and enjoy the films, one trio will closely monitor every frame of them. Majda Rijavec, a professor of psychology at Faculty of Teacher Education, Mina Keshavarz, an Iranian writer with several award-winning documentaries and Tamas Gabeli, a Hungarian filmmaker and organizer of the International BuSho Short Film Festival, will decide on nine out of eleven awards, namely: one prize in each of the four categories, separately for Youth Film Festival and Four River Film Festival, and on the main award for best film – the Grand Prix, which unites both festivals. "We brought some innovation into the categories as well because we love novelties. So this year there will be an additional category which will change from year to year. This year it will be a category for dance film ", announced Ksenija Sanković. And she added: "That kind of film should be evaluated both by connoisseurs of art and of dance. So, Rok Vevar, an art theorist and historian of modern dance will join the jury for this new category. "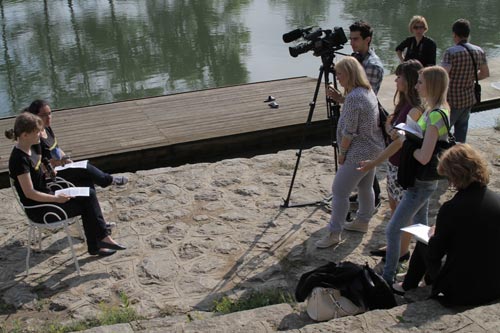 The young jury also underwent changes when it comes to film evaluation. Thus, the festivals will host eight young filmmakers from Macedonia and Turkey who will use their expertise to evaluate the films in the competition. Their visit is a result of meetings at the Youth World Cinema Alliance conference in late April and early May this year and it has brought about an exchange of jurors between the famous brand of film festivals for children and youth, the Giffoni Experience, which organized the previously mentioned conference, and Youth Film Festival together with Four River Film Festival. In addition to the Yellow Flag, which is an award for the promotion of non-violence in film, this year eight filmmakers will present the awards for best actor, actress, director, cameraman and editor. The last evening will therefore be a kind of Oscar ceremony held in Karlovac.
As far as the cutest festival program is concerned - there has been a change too. It is, of course, the program Film 5+ in which the youngest audience members have enjoyed watching films. With combined work from the Film Club, the town of Karlovac and Zorin dom Theatre, a more or less regular film program was initiated so the objectives of Film 5+ have changed a little. As Croatian Film Association, along with the Youth Film Festival, organizes the Croatian Children Film Festival, it seemed logical that these two events united at least briefly - because high school filmmakers have started their film careers at the Children Film Festival anyway. In the program Best from children'sfilmcuisine kids will be able to see the first films of today's authors from the festival's competition program, for which they won awards at Children Film Festival while they were still much more inexperienced in film-making.
But we cannot stop at solely enjoying watching films. We like that our high school guests go home with a lot of beautiful memories and new knowledge. Our goal is to have fun, but also to expand the network of knowledge, Ksenija added. In this context, the festival visitors will have an extremely rich educational program - made ​​up of 11 diverse workshops and lectures for students and their mentors. The workshops range from talking about sound on film to lectures on "Film and mathematics." On the first day of the festival a workshop about feature film will be held for citizens of Karlovac. That will be a special gift for the young people from the host city.
The press conference on the plateau of Kupa River was concluded with an invitation to another pre-festival activity that will take place on Saturday, June 15 at the shopping center Supernova. "Have you always wondered what it's like to be a decorator? Are you interested in design? Do you know how to achieve excellent décor with a very small budget? Or you do not know, but want to learn? Don't worry; you are at the right place! Join us in making festival decorations and see your creations on all the festival locations during the festival. Join us tomorrow at 9 am at the Supernova. Follow the yellow trail!"
13.06.2014.