300 sky lanterns in the air! – 19th Youth Film Festival and 7th Four River Film Festival have started
Only nine months after the last year's edition Karlovac has yet again become high school film mecca. Last night on the banks of River Kupa 19th Youth Film Festival and 7th Four River Film Festival have been opened. Shorter period between the last year's and this year's edition did not affect the organization so this year the festivals last for five days and offer their guests a film menu richer than ever before.
There are 365 submitted films in the competition of the two festivals so the selection committee had a lot of work. However, despite strong competition, this trio composed of Croatian language and culture media Ana Đordić, famous film critic Boško Picula and film director and playwright Jasna Žmak singled out 38 films that will compete in the national​ program and 42 international ones. As Jasna Žmak said, "I am so glad to have the chance to swim in the cinematic worlds of those who still are really young, whose views about the world and film are unburdened by distortions and blurriness that come with aging, growing up and gaining experience".  On this occasion we welcome you to a new adventure film of virtuosos.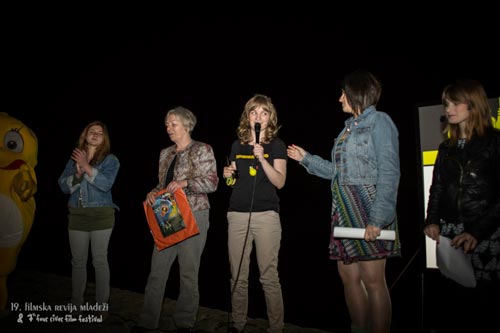 Once again Mayor Damir Jelić helped to turn on the light and free all those talents that were hiding in the dark. "During my seven-year mandate, I watched the growth of this event and I cannot describe my joy when I see what it's become," said the Mayor DamirJelićand emphasized the importance of the festival for the entire community and the development of young people for whom he sees an uncompromising future.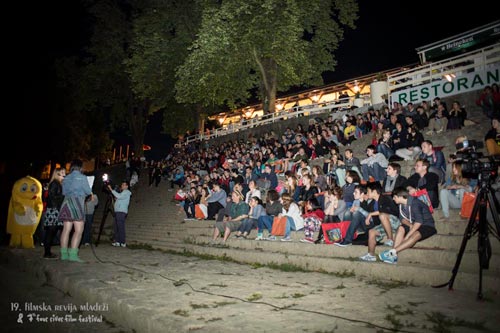 The jury will ensure that their future is even brighter. Members of the jury are Iranian filmmaker and activist, Mina Keshavarz, media educator and director of BuSho Film Festival in Budapest, Tamas Gabeli, while local colours will be presented by psychologist and professor Majda Rijavec. 80 films will fight in four categories for 11 awards, and whose film will shine the brightest and win the Grand Prix? We will find out on Friday, June 20, at the closing ceremony.Because of the 'Happy' mania, this year the organizers decided to introduce a special category within which additional awards will be given out. That category will change in the upcoming years. So at this year's edition the special category is dedicated to dance films and dance teacher Rok Vevar will decide upon the winners.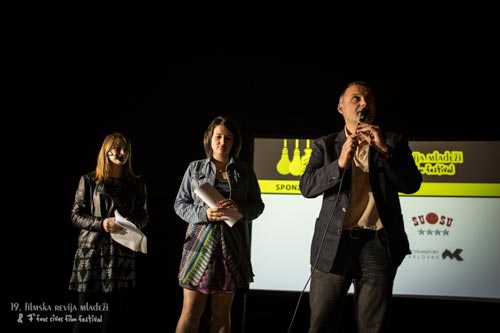 The particularity of this year's edition lies in the tasks which festival guests,exactly 160 of them, will have to perform in days to come.
"It wouldn't be interesting if we just brought them to Karlovac and let them do nothing for four days. They need to do something. In cooperation with Karlovac Tourist Board, it was agreed that these 160 young people from all parts of the world record video logs during their stay in Karlovac. The topic is Karlovac as the city of youth. Given that our guests are going to visit all four rivers in the next four days, there is no doubt that the videos will be original and creative. We expect them with joy by the end of the festival. That is how our guests will be with us for the next 365 days. You will be able to see their videos at the Tourist Board's web page," added festival coordinator Marija Ratković Vidaković with a special smile before giving the microphone to her collaborator and support Vera Robić-Škarica.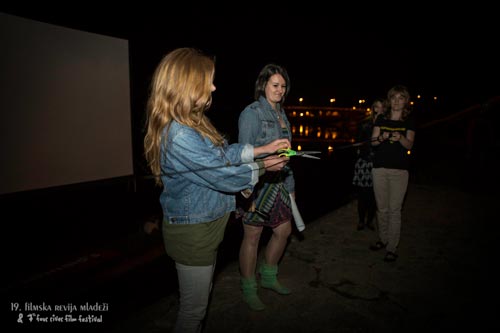 "You managed to combine my two favourite things- river and film. And when I thought that things could not be better you managed to raise this event to a higher level,"said Robić-Škarica before letting last year'swinners of the Grand Prix Kaja Šišmanović say a few words. Marija and Vera held the film strip and young Kaja had to cut it. With only one movement she started new film madness - 19th Youth Film Festival and 7th Four River Film Festival.
The opening ceremony was finished by putting in the air as many as 300 fire lanterns, 'little lights' which lit up starry sky of Karlovac and heralded the 8th, i.e. the 7th edition of the festival.
We wish you bright and cheerful four days of the festival, at the four rivers of Karlovac. Watch a good movie, hang out, swim and enjoy.
The first screening of the competition program is scheduled for today at 9:30 in Zorin dom Theatre and evening on Korana is reserved for the program Once laureates of the festival, and today? within which Maida Srabović will present her film. Thus, visitors will have the opportunity to see the film 'Lady Akra Šišmiš with which she won at the festival in Zadar 10 years ago, and her successful film"Permanent Hire" directed by David Kapac.
After the past, we are going to the present! At 11 pm we will screen the Slovenian film from 2010 by the brilliant Slovenian director Miha Hočevar"Going our way", while we will enter a new day with the football madness - transmission of match of the World Cup where Croatia plays against Cameroon.
The opening ceremony of the festival is behind us. Light bulbs are lit and four Karlovac rivers are ready to transform their banks into cinemas.
18.06.2014.