The talent is set free – 19th Youth Film Festival and 7th Four River Film Festival are closed!
After five days dedicated to film, we came to the happy ending. Last night the best filmmakers received their awards, and we finished our yellow story today with the accompanying program High school kids for high school kids, debate about the impact of new media on violence among high school students and giving away of the last two awards: Yellow flag which promotes non-violence on film and the audience award.
Following the program which was held on Tuesday morning the City Museum once again became a mecca of various workshops dedicated to high school film. Thus, as part of the High school kids for high school kids we presented DokuMa - International Documentary Film Festival which was held in Makarska in May this year for the first time, then Giffoni Macedonia - Festival originated from the Giffoni brand that promotes film for children and active participation of children in the analysis of film, and Spanish MICE by Jordi El Mussol – a new festival dedicated to children and youth from Valencia, which puts special emphasis on education.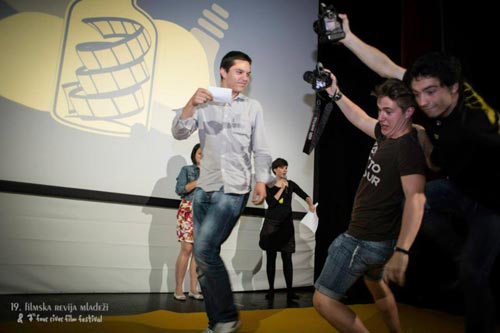 After a colorful program oriented on events and programs for high school students in Zorin dom Theatre, there was a debate on the topic Do modern technology and social networks provoke violence among youth? Just before noon, affirmative and negative team had to discuss how to use modern technology, does it serve solely for entertainment, communication and facilitating life or is it, like any tool, easily turned into – a weapon? The negative group attempted to prove that all depends on the kind of person you are. "For example, someone uses a knife to cut bread, and some as a weapon to do someone harm. So, social networks won't affect someone's aggressiveness because you need to be such a person. ' That was just one in a series of statements from the negation group. Affirmative group in turn argued that new media encourage violence, because the Internet and social networks make it easier for people to be violent. Professor of psychology at Teachers College Majda Rijavec agreed somewhat with both groups. As an expert in psychological behavior she explained that children are indeed violent nowadays and stressed that they behave in such a way on the Internet.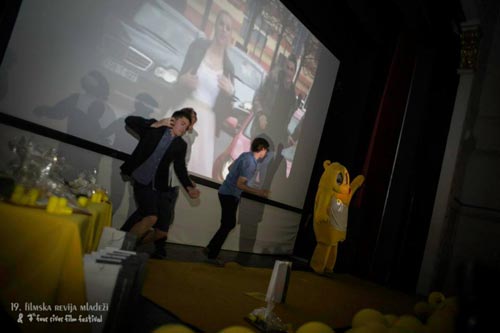 The high school jury composed of young film lovers from different countries – Macedonia and Turkey, the so-called youth jury decided that the affirmative group presented their points of view better and so they won. Today the youth jury decided on the winner of the Yellow Flag award which serves to promote non-violence on film. The winner was Film Festival Zenica in Bosnia and Herzegovina for their movie Amar.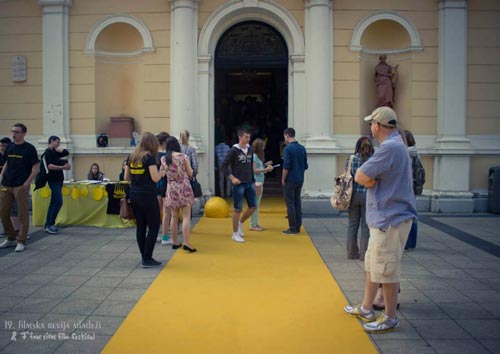 The Audience Award went to Elegy Film from Sesvete and their film Coldblooded. So the group from Sesvete is going home with two awards – the Audience Award and the one for best film in the national competition (which was awarded the previous night).
Before we closed the festivals with song, dance and traditional bursting of yellow balloons, we presented the works of 13 film workshops and lectures which were held during this year's festivals and we can tell you-the kids really didn't skip classes! Workshop program has proven to be a big hit and next year it will certainly be richer.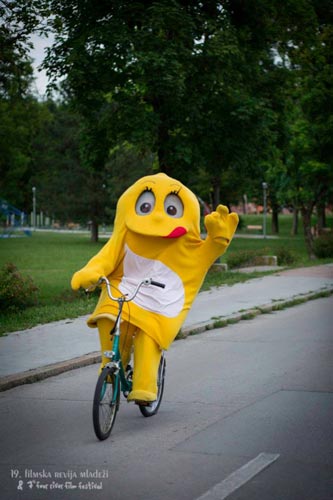 Just one look at this year's rich program of the festival and it will be clear that the talent is certainly not left in the dark. First of all, it shined on the yellow carpet - an innovative idea that particularly delighted young participants because they truly felt like stars. The program Once laureates of the festival, and today? so got a few potential candidates for future editions. After five days of watching a handful of quality films, we will take a short break, and then move on to making and planning of the next edition - the 20th jubilee Youth Film Festival and 8th Four River Film Festival which will be held next year from 23rd to 27th June in Karlovac. While closing the festivals, coordinator Marija Ratković Vidaković thanked all the guests (number of whom was this year higher than ever, as many as 160) and the organizational team and has already hinted what will be the visual leitmotif of the festival next year - bananas! And who will be jumping from branches and eating bananas, we'll find out in a year!
22.06.2014.