See the trailer for Youth Film Festival and Four River Film Festival on the 23rd Days of Croatian Film!
Trailers for the festival in Karlovac, as Youth Film Festival and Four River Film Festival are colloquially called and which stand for an international event dedicated to high school film, have always been different and in some ways little films for themselves. Year after year they adapted to the themes of festival's visual identity (chemistry, beavers, four film characters, etc.), so it does not surprise that  last year's trailer was based on bowling because the visual identity of the festival was based on this popular sport. The quality of last year's trailers is confirmed by the fact that it will be presented at the 23rd Days of Croatian Film which have begun today and will be held until April 27 at the Student Center in Zagreb. Together with the festival in Pula, Days of Croatian Film are considered one of the central film events when it comes to national cinema. The trailer is scheduled for Thursday, April 24 at 8 pm within animated films block.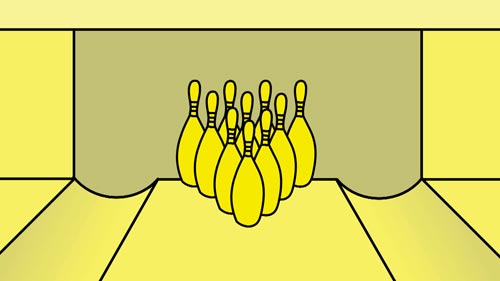 The trailer originated from the idea and the scenario of Cinema Club Karlovac members and was made by young animators from the Film-creative studio Vanima from Varaždin because the organizing team of the festival decided last year to turn to young authors when it comes to trailer realization. That is why every year, in cooperation with one of the partners who are engaged in youth film and who participated in one of the editions of the festival, a new trailer will be made. The goal is to truly engage young people in all aspects of the festival organization since the festivals are dedicated to youth filmmaking. So the trailer for this year's edition will be made in cooperation with young filmmakers from Creative Ideas Studio Gunja. Details for it will not be revealed - we will only hint that this year's leitmotif and the basis of the visual identity is light!
Applications for participation at the 19th Youth Film Festival and 7th Four River Film Festival were completed last week, but the last films still coming in. As it seems, we will beat the last year's record of 300 submitted films. The selection committee will not have an easy task because they have to choose the best that will be presented in Karlovac from June 17 to 21.
If you do not have the time to visit the Student Center on Thursday, last year's trailer can be viewed at the following link.
22.04.2014.