Youth Film Festival and Four River Film Festival this year bring you 79 films from 30 countries screened on four rivers. Literally.
Karlovac - a city on four rivers, has during the last seven years in the first days of September been marked by the fifth, yellow river - not full of beer, but of film. From 2007, since has started taking place here, and the a year later, every early September Karlovac lived a completely different story: it was occupied by more than 150 young film lovers from all parts of the world, who were watching, creating and commenting films. This year the story is slightly different. The 19th edition of Youth Film Festival and the 7th edition of Four River Film Festival have moved to the month of June, bringing movies where, according to the name of the festival (four rivers) they belong - to the rivers!
19th Youth Film Festival and 7th Four River Film Festival, the largest event dedicated to high school film in this region will this year be held from 17 to 21 June. During the five days (i.e. one day more than before) and four nights best films of young people aged 14-20, and a rich accompanying program will be screened at several locations. Together with Zorin Dom Theatre, the program will every evening migrate to one of Karlovacrivers - Kupa, Korana, Mrežnica and Dobra, and so symbolically encompassits name. Is there a more beautiful stage in the world than the one along a river?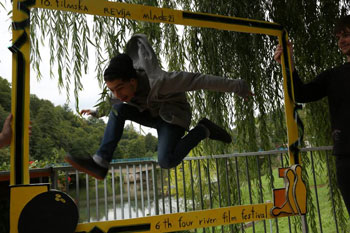 At this year's edition of the festival a total of 364 works from 30 countries applied: from Argentina, Armenia, Austria, Belgium, Bosnia and Herzegovina, Brazil, Czech Republic, Denmark, Finland, Greece, Hong Kong, Croatia, Ireland, Israel, Canada, Lebanon, Hungary, Macedonia, the Netherlands, Germany, Portugal, Russia, the USA, Slovakia, Slovenia, Serbia, Spain, Sweden, Ukraine and the United Kingdom. Selection Committee composed of Ana Đordić (media educator), BoškoPicula (film critic) and JasnaŽmak (playwright) has selected 79 best achievements in five categories - feature, documentary, and animated film, and a freestyle category. The fifth category was introduced this year and will vary from year to year. This year's edition is dedicated to dance film. Such a decision was not made because of 'Happy' song, but it "coincided" nicely.
In addition to screenings of films in the competition program, young authors should expect numerous workshops, lectures and excursions, and above all, they will socialize with peers from all over the world. From June 17 to 21 Karlovac will once again be painted yellow! You are all welcome!
09.05.2014.