You've made your HAPPY video? Apply it for Karlovac!
There is no child, mom, dad, grandma or grandpa who is not familiar with the recent Happy initiative which united the world and once again showed that happiness can be found in little things. On the International Day of Happiness the media were full of videos for Pharrell Williams's dance hit in the streets of London, Berlin, Sydney, but also Split and Dubrovnik and other cities. There was a strange blend of tradition and modern lifestyle, the young and the old rejoiced together, and all the videos have reflected a passionate love for dance, laughter and life.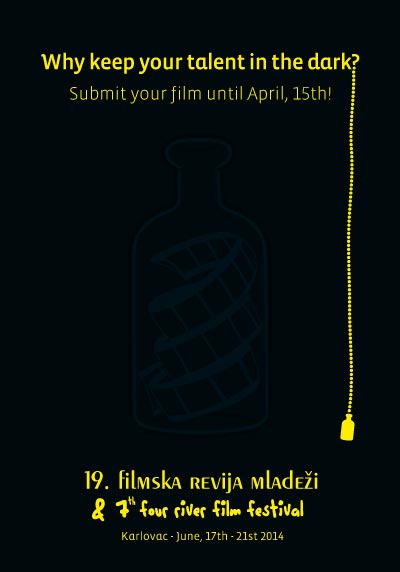 We don't want you to leave your talent in the dark so the 19th Youth Film Festival and the 7th Four River Film Festival invite you to apply your Happy video on this year's edition of the yellowest film event. This year the festivals will last one day longer than in previous years so the organizers decided to introduce a fifth category in which you can compete with your films. The fifth category will belong to dance film, which is an ideal opportunity for you, creators of Happy videos.
You have already done most of the work. Now you only need to do the formal part and fill out the application for your film.
Conditions of entry can be found here.
Of course, together with dance films, you can send your application for the usual four categories - feature, documentary, animated and freestyle.
Deadline for applying both to the 19th Youth Film Festival and the 7th Four River Film Festival is April 15, and this year everything is done via Internet on the following link.
Don't keep your talent in the dark! See you in Karlovac from June 17 to 21!
31.03.2014.