Let's meet the participants of 19. Youth film festival and 7.Four River Film Festival
Blank_filmski inkubator: "The Festival in Karlovac is the most serious high school film festival in Croatia, and probably beyond. Our film is a great asset, but let the best film win!"
This team brings us the greatest number of films to this year's festival. This fact is not surprising since we are talking about Blank_filmski inkubator, an association that educates youth in film and knows best how film enthusiasts develop and what they like. Igor Jelinović, head of film workshops reveals in the following lines what kind of films they bring us and from which film they expect much.
Introduce yourself! Who and what is Blank?
Blank_filmski Incubator is a non-profit organization from Zagreb which is into film education of children, youth and elderly people. In addition, we produce debut films for young filmmakers, we are into social entrepreneurship and we issue a film magazine. We are located in the suburbs of Zagreb, in Špansko and we try to make topics of our films close to our students so that they lead to reflection and reconsideration of their position in society.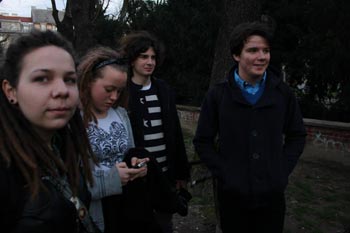 This year you are coming with five films. How come?
This year we sent twelve films to the festival in Karlovac. Unfortunately, some very good ones (according to us), did not pass the selection, but those who did there will surely be presented in a good light. A short film directed by Leo Vitasović and Jozo Jozipović Heavy Colors, then an animated short film directed by Karlo Pavičić Ravlić, a music video for the song Songs of you by a young singer Lovro Krovina directed by Leo Vitasović, and two promotional video clips: Commercial for 10th High School (director Leo Vitasović) and Commercial for 16th High School (director Fran Grgić). In addition, a short film Coldblooded, which is also in the competition, is a co-production of Elegy film and Blank.
Feature film "Heavy colours" won the award for best high school feature film last year at Dubrovnik Film Festival. The expectations are thus great. Do you expect a lot from this film at the festival in Karlovac?
True, the film Heavy colours is our great asset and we hope that audience and the critics will recognize it this time, but we have no imperative. May the best film win! :)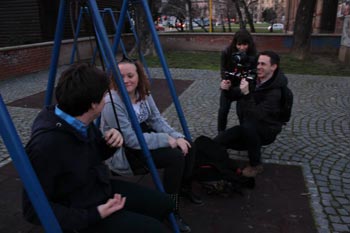 You, as a leader, see best how young filmmakers breathe. They will take over the world, the saying goes. Will the world of film remain with these new generations?
New generations are great at making films and on a technical level they are miles ahead of us when we were their age. This, of course, is because of the digital revolution and the availability of film equipment to all who are interested in making films. In Blank we also have a very talented generation of primary school kids who, just like their slightly older counterparts, often teach us some new tricks. On the other hand, for high-quality stories and good ideas you do not require technology, so from that perspective, everything is individual and depends on the level of emotional maturity, their view about the world and their talent for dialogue and structure for every one of them.
Judging by the awards that you won in Karlovac at previous festivals, Karlovac loves you, and judging by the fact that you always come back, you love us too. What is that chemistry about? :)
It is falling in love! :) Just kidding. Karlovac Festival is the most serious high school film festival in Croatia, and probably beyond. It is natural that our films will be sent to this event, because we want to introduce them to a wider audience, but also allow our high school students to participate in the festival, meet peers from around the world and perhaps achieve some new collaboration. The awards are just icing on the cake.
See you in Karlovac from June 17 to 21! We look forward to it and cannot wait!