FILMSKA KRETNJA
U narativnom filmu pratimo pravac filmskog kretanja oslanjajući se na priču koja napreduje njenim uglavnom logičnim razvojem. Prečesto uneseni u isčekivanje raspleta napete priče ne primjećujemo kako je film zapravo napravljen.
U eksperimentalnom filmu stvari su drugačije. Eksperimentalni film eksperimentirajući pronalazi svoju formu, način obrade priče ili puno češće teme ili koncepta pronalazeći sebi svojstvenu kretnju ili daleko od pravila narativnosti ili pak intervencijom u ta pravila.
Filmovi odabrani za ovaj program, plesni, ekperimentalni, animirani, pokazat će neke od brojnih filmskih postupaka i umjetničkih ideja koje pokreću umjetnost filma u vremenu u kojemu je film za nas gledatelje jedino prisutan.
Liliana Resnick
MOVEMENT IN THE FILM ART
In the narrative film we follow its story mainly by today's well-known rules of the story development. The excitement of the story lures us into perceiving the film through the story only, thus missing how the film is actually made.
In the field of experimental film things are different. The way experimental films move in time is either by its own creative intervention into the codes of narrative or by abandoning narrative rules completely.
Dance, experimental and animation films that our program consists of will bring to attention some of the numerous methods and artistic ideas that move the film art in time.
Liliana Resnick
FILMSKA KRETNJA I MOVEMENT IN THE FILM ART I
Zagreb, Kino Tuškanac, 08.02.2011. / 21.00
Rijeka, Art-kino Croatia, 12.02.2011. / 17.00
(90 min)
1. Dawn Before Sunrise Helena Schultheis (2010.) 05' 20''
zvuk / sound : Richard Edgeler
redatelj / director : Helena Schultheis
scenarij / script : Helena Schultheis
fotografija / photography : Helena Schultheis
montaža / editing : Helena Schultheis
orignalna glazba / original soundtrack by : Richard Edgeler
produkcija / production : SYNOXYS
Suvremeni model kokreiranja života postaje prijetnja na osobnom i kolektivnom nivou. Neistinite informacije i isključivo linearno shvaćanje vremena dovode do neponovljivih i zauvijek izgubljenih prilika.
Contemporary model of co-creation of life is becoming a threat on personal and collective level. Both false information and exclusively linear comprehension of time are leading to irreversible and forever lost opportunities for all.
2. Circle Milan Bukovac (2003.) 11' 21''
redatelj / director : Milan Bukovac
scenarist / writer : Milan Bukovac
direktor fotografije / director of photography : Milan Bukovac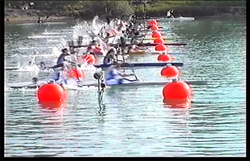 Sve je krug, svaki je početak ujedno i kraj.
Everything is in a circle, every beginning and every end.
3. Julia So Young Yang (2010.) 07' 50''
redatelj / director : So Young Yang
koreograf / choreographer : Julia Kathriner
plesači / main Dancer/s / : Julia Kathriner
skladatelj / composer of music : So Young Yang, Stravinsky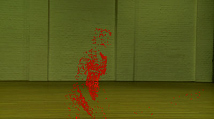 A contemporary dancer is practicing ñ in a trial to find out the dynamic relationship between the weight of bones and the spinal alignment in conjunction with gravity and space. The positions of her body are extremely restless, a phenomenon which stems from the dancerís acute awareness of gravity and her effort to maneuver the perception of it.
To a video maker who is observing this session, the physicality of the movement that accumulates into a moment turns into a paranoiac psychological experience.
In this work, the psychological feelings are the other force in performance with the ìnever arrivingî JULIA.
Suvremeni plesač uzastopno formira ñ kako bi shvatio dinamičnu vezu između težine kostiju i konstrukcije kičme sa gravitacijom i prostorom. Pozicije njenog tijela su vrlo neujednačene, te proizlaze iz izrazite osvještenosti plesačice prema gravitaciji i iz njenog pokušaja rukovanja njome.
Snimatelju koji prati ovu izvedbu, tijelesnost pokreta koji se nakupi u trenutku pretvara se u psihološki doživljaj paranoidne osobe.
U ovom djelu psihološki osjećaji su još jedni pokretači u izvedbi uvijek akutalne JULIE.
4. Iris Željko Radivoj (1971.) 05' 20'', c/b, bez tona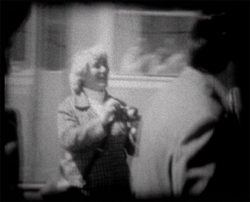 Dokumentarno - eksperimentalni film o uličnoj fotografkinji gospođi Meri Šajnović, koja od jeseni do početka ljeta snima prolaznike ispred spomenika kralju Tomislavu u Zagrebu. Neumorno nudi usluge snimanja, snima - kadrovi se skraćuju, završava s nekoliko stotina pojedičnih snimki prolaznika. Jedan čovjek, jedna sličica.
An experimental documentary about street photographer Meri Šajnović, who filmed passers by in front of statue of king Tomislav in Zagreb from autumn till the beginning of summer. She tirelessly offers her photographing service, she takes photographs - scenes are getting shorter, she ends up with couple of hundred of single shots of passers by. One man, one photo.
5. Satiemania Zdenko Gašparović (1978.) 14' 15''
režija / director : Zdenko Gašparović
scenarij / scriptwriter : Zdenko Gašparović
glazba / music : Eric Satie, Aldo Ciccolini
animacija / animation : Zdenko Gašparović
kamera / camera :Franjo Malogorski
montaža / editing : Lidija Jojić
scenografija / scenography : Zdenko Gašparović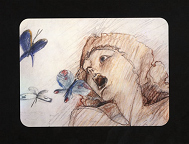 Film Satiemania je animirana fantazija na glazbu Erica Satiea.
Satiemania is animated fantasy accompanied by Eric Satie's music.
6. Seisana Miroslav Mikuljan (1970.) 03' 00'', c/b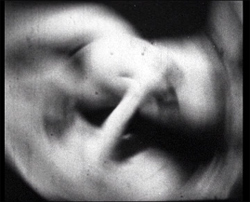 Ljudsko tijelo u brzom okretanju pretvara se u apstraktne oblike stvarajući niz vizualnih asocijacija.
In forceful twirling, a human body transforms itself into abstract forms creating a row of visual associations.
7. Moments Liliana Resnick (2007.) 06' 25'', c/b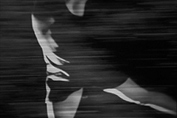 MOMENTS je film o tajnama trenutaka, onih koji se logično uklapaju u naš život ali i onih koji nas postavljaju ispred pitanja bez odgovora.
Life is a tapestry of moments, I agree. Some get connected to each other in a continuity of living, in the direction of a future unknown. Others insert themselves into the path of one's living which, for some reason, they have to intersect. MOMENTS is a film about the mystery of moments, some of which get connected into the life I recognize to be living, while others come to pass by posing questions rather than giving answers.
8. Going Up? Marcela Donato (2007.) 05' 30''
redatelj / director : Marcela Donato
koreograf / choreographer : Marcela Donato
plesači / main dancer/s / : Marcela Donato, Carolina Campos, Fernando Klipel, Fernando Nicolini, Jamil Cardoso, Amanda Lima and Calixto Neto
kompozitor / composer of music : Music Colage By Helena Chaves
"Sobe?" is a dance video inspired by a behavior "no no list". We've chosen the elevator as our spatial and social focus; how should one behave in an elevator? What would be a "no-no" action for those specific situations?
We break social silent agreements in order to displace this common everyday action into a performative context.
"Sobe?" je plesni video inspiriran "ne ne " listom ponašanja. Odabrali smo lift kao naš prostorni i socijalni fokus; kako bi se čovjek trebao ponašati u lift? Što bi bile "ne ne" reakcije u određenim situacijama?
Mi prekidamo prešutne kodekse ponašanja kako bi usmjerili svakodnevne forme ponašanja u izvedbeni kontekst.
9. Sub Rosa Katja i Nikola Šimunić (2003.) 08' 26''
scenarij: Katja Šimunić
crtež: Nikola Šimunić
režija: Katja Šimunić i Nikola Šimunić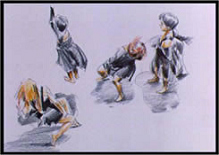 Zasnovan na ulomku iz Gudačkog kvarteta u C-duru, op.58, hrvatske skladateljice Dore Pejačević (Našice, 1885.- Muenchen, 1923.), film iscrtava asocijacije na njezino stvaranje i otjelotvoruje pokret u animiranim sekvencama suvremenoga plesa četiriju plesačica koje (re)materijaliziraju glazbu. Dora Pejačević je bila aristokratkinja, intelektualka i velika skladateljica, a film je posveta ponajprije njezinoj glazbi i njezinu "Dnevniku pročitanih knjiga" ("My Book Record"), zapis pokreta u prostoru između dva crteža olovkom na papiru, pokušaj odgonetavanja onoga što u toj glazbi ostaje uvijek ispod ruže, u povjerenju, dakle, skriveno.
Base on a fragment of String quartet in C-major, op.58 by Croatian composer Dora Pejačević (Našice, 1885.- Muenchen, 1923.), the film depicts associations based on her work and embodies movement in animated sequences of contemporary dance performed by four dancers who (re)materialise music. Dora Pejačević was an aristocrate, an intellecutal and a great composer, and this film is predominately an hommage to her music and then to her "Dnevniku pročitanih knjiga" ("My Book Record"), a record of movements in a space between two pancil on paper drawings, an attempt to decipher what in this music stays under the covers, between these four walls, which means, stays secret.
10. Dva vremena u jednom prostoru Two Times in One Space Ivan Ladislav Galeta (1976/79.) 12' 00''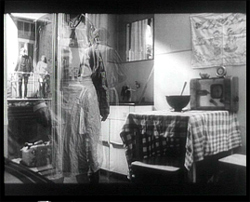 Film, snimljen u jednom kadru, pod nazivom "U kuhinji" od Nikole Stojanovića iz 1968. godine u produkciji ''Sutjeska filma", poslužio je Ivanu Ladislavu Galeti za njegovu found footage interpretaciju, koju je prvi puta izveo s dva kinoprojektora i jednom kopijom u obliku expanded cinema 1976. godine u Poljskoj. Filmski performance realiziran je pred publikom s dva projektora i jednom provedenom filmskom vrpcom i istovremenom projekcijom oba projektora na jedan ekran. ''Konvencionalnu'' verziju, koju ovom prilikom predstavljamo, izvedena je 1984. godine u laboratoriju ''Jadran filma'' dvostrukim presnimavanjem istog filma s faznim pomakom od 216 sličica. Rezultat ovakve filmske interpretacije, gdje se nije interveniralo u strukturu izvornog filma, omogućava nam iluzorno iskustvo DVA VREMENA U JEDNOM PROSTORU, gdje se trenutna radnja, opet ponavlja na drugoj radnji, nakon 9 sekundi.
A single frame film, titled, "U kuhinji" (In the kitchen) by Nikola Stojanović, made in 1968. by "Sutjeska film", helped Ivan Ladislav Galeta to create his found footage interpretation, which he, for the first time, performed using two film projectors and one expanded cinema copy in 1976. in Poland. This film performance was shown to the audience with usage of two projectors and one film tape and the both were simultaniously projected at one screen. "Conventional" version, which we are showing now, was shown in 1984. in a lab of "Jadran film" through double recording of the same film with phase motion of 216 pictures. The result of this film interpretation, where the structure of the base film had been intervened, enables us have an illusive experience of TWO SETS OF TIME IN ONE SPACE, where the current action repeats itself in the next action after 9 seconds.
11. Surogat Ersatz Dušan Vukotić, 09' 36'' (1961.)
režija / director : Dušan Vukotić
scenarij / scriptwriter : Rudolf Sremec
glazba / music : Tomica Simović, Arsen Dedić
animacija / animation : Dušan Vukotić
kamera / camera : Zlatko Sačer
montaža / editing : Tea Brunšmid
scenografija / scenography : Zvonimir Lončarić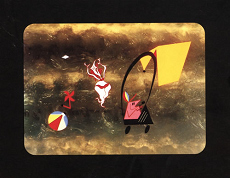 Na morskoj plaži turist napuhuje i stvara čitav camping od plastične mase. U ovom šarenom napuhanom ambijentu za sve postoji surogat od plastike pa i za osjećaje. Na plaži se rađa jedna zanosna ljubav, ljubomora i osveta, te na kraju tragedija. Sve se ispuhalo i splasnulo kada se u događaje umiješao jedan mali obični realni čavlić.
On a sea shore beach, a tourist inflates an entire camping unit made of plastic mass. In this colorful floated ambiance, there is a plastic surrogate for everything, even emotions. Infatuating love is born at the beach, as well as jealousy and revenge, and in the end, a tragedy. Everything deflates and disappears when one small and simple real-life nail comes to picture.