For 12 years, till 2007, the torrent of high school film moved from city to city around Croatia. Then, in a Karlovac twist – the "froggers" moved into their natural habitat – the fifth river – the river of film, which was colored in yellow under the name the Youth Film Festival and as such remains in Karlovac indefinitely.
The water climate of Karlovac is obviously fertile ground for film and the film festival in its teens, grown jointly by the Cinema Club Karlovac and the Croatian Film Association, while a special incentive for growth is given by the 4 thousand visitors each year (during the 4 days of the film harvest) and hundreds of young authors whose films have swept over Karlovac.
Encouraged by a great catch in the first year, the "froggers" ventured into international territory creating the Four River Film Festival so, since 2008, there is international high school film running through our waters.
Fifth year in a row, Karlovac soil is enriched by film waters and it's becoming more fertile and yellow every time, and it's quite obvious that the color yellow is becoming the official color of the festival and Karlovac the official incubator of high school film!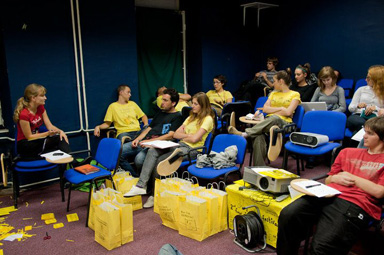 YFF AND FRFF COORDINATOR
Marija Ratković
PRODUCTION ASSISTANTS
Zlatko Novaković, Ksenija Sanković, Anita Stepić
PROGRAM COORDINATOR
Sanja Zanki
VISUAL IDENTITY
Marko Pekić
PRESS OFFICE
Tatjana Gržan, Tara Lukičić
GUEST OFFICE
Adrijana Dimić, Katarina Ratkaj
CREATIVE SOLUTIONS
Svjetlana Višnić
SIDE PROGRAM COORDINATORS
Anita Stepić
TECHNICAL COORDINATION
Igor Šlat, Emilio Zinaja
VOLUNTEERS AND DRIVERS COORDINATOR
Hrvoje Žibrat
INTERVENTION UNIT COORDINATOR
Matija Žibrat
FESTIVAL LOCATIONS COORDINATORS
Morena Joksović, Dariana Maradin, Marija Markezić
DAILY NEWS BULLETIN CONTRIBUTORS
Marko Pekić, Svjetlana Višnić, Karla Mirčevski, Neven Mihajlović – Cetinjanin, Vedrana Mihalić, Doniko Strikić
S.O.S. SERVICE
Marko Pekić, Zdenka Mihelj
TRANSLATION
Andrea Rožić, Vedrana Mihalić
CONSECUTIVE TRANSLATION
Vedrana Mihalić
SUBTITLES
Marko Godeč, Ministarstvo Titlova
IT
Zoran Vrbetić Vrba
FESTIVAL TRAILER
Vjekoslav Živković
FESTIVAL CHRONICLES
Bojan Perić, Bojan Gazibara
PHOTOGRAPHERS
Zvonimir Ferina, Filip Trezner
FESTIVAL SHOP
Dunja Bovan
IMPORT - EXPORT COORDINATOR
Leonard Boljkovac
DRIVERS
Josip Čop, Karlo Drašković, Valentina Gambiroža, Matija Ratkaj
CROATIAN FILM ASSOCIATION ORGANIZATIONAL SUPPORT
Vera Robić-Škarica, Željko Radivoj, Damir Pezerović, Kristina Dorić, Mislav Vinković i Vanja Hraste
OUR DEAR VOLUNTEERS
Ana Bodrožić, Andrej Kljajo Petković, Anja Manojlović, Bruno Rajković, Dina Al Salih, Domagoj Perušić, Dominik Strikić, Helena Panijan, Iva Polović, Ivana Brozović, Ivona Bosiljevac, Karla Grguraš, Karla Mirčevski, Kathrin Mäusl, Katja Matičić, Krešo Stojanov, Kristijan Protulipac, Lana Čorak, Lara Krajačić, Leonard Boljkovac, Lucija Češkić, Luka Mavretić, Marija Antić, Marija Graša, Marija Pajić, Mario Višnjić, Mario Vlahović, Marko Mikšić, Matej Špečić, Mateja Banić, Matija Žibrat, Miha Pužin, Miran Ratković, Nina Čorak, Petra Štefanac, Sara Šprajcer, Silvija Milovac, Teodora Kapušin, Tomislav Begedin, Tomislav Bočkaj, Valentino Krivačić, Zrinka Matičić, Zvone Magdić, Željko Klobučar