The countdown has started!
VISIT US AND GET YOUR PIECE OF THIS NATIONAL AND INTERNATIONAL FILM DELICACY
Just in over a month 16th Youth Film Festival and 4th Four River Film Festival will be held in the city of Karlovac. Organized by the Croatian Film Association and the Karlovac Film Club this high school event will again provide an opportunity for all film lovers to enjoy the best creativity of young people. High school students are always the loudest when it comes to new ideas, imagination and creativity! It has certainly been confirmed by previous three and four editions of Four River Film Festival and Youth Film Festival, respectively, and new 84 films of this year's competition will surely prove it again.
Ireland, Denmark, Germany and Korea are just some of twenty two countries which are taking part in this year's competition program of the Festival. According to the statement of a member of the selection committee Diana Nenadic, "a new edition of the Four River Film Festival could be truly rich and diverse, although at the first glance it seems that violence, hopelessness, trauma and various forms of depression are predominant themes, and horror is a favorite genre of the youth in all its variations - vampire, maniacal, splatter and others. A remedy for imagined terror, and documented real horror is provided by animations, especially the Moldovan, and a few experimental films torn away from their own time and space."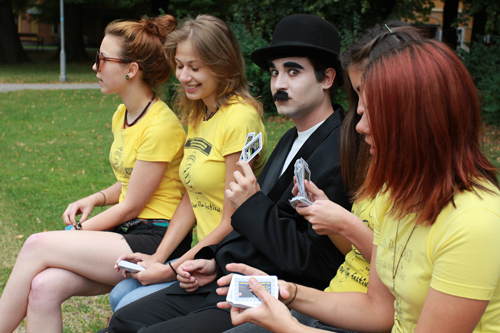 This year's Four River Film Festival will host a whole range of interesting film groups. School of Animated Film Vranje of Serbia should be mentioned which is the only type of such a school in this region of Europe, under the auspices of UNESCO, and the young independent and multiply awarded author Klemen Berus from Slovenia, with the film My Naughty Neighbor , the film that has won numerous awards in the neighboring country, and certainly the most interesting Shanghai American School from Korea which is daily attended by three thousand students from around the world, and at this year's festival their film The Box will be presented.
"The best titles competing for prizes in the city on four rivers are triumphs of imagination, competence and a desire to affect the reality with the best in man - creativity and reciprocity, "said Bosko Picula, member of the selection committee, as it is proved by Croatian film accomplishments which did not leave the selection committee indifferent.
FKVK Zaprešić and the host Kinoklub Karlovac will present four films each, as the most numerous film groups in the national selection. They are followed by the Studio kreativnih ideja Gunja, Blank - filmski inkubator and Centar za film i video Dubrava with three works in the competition program. "Zaprešić still offers excellent animations and experiments, and the Zagreb Blank parody genre plays. The repertoire of Gunja constantly expands and deepens, and Vukovar documentary repertoire profiles, becomes serious and opens Croatian reality "said Diana Nenadić.
"Making a film is group's activity," said Jura Troje, himself a member of the Selection Committee. How many young filmmakers were led by a verse from the film A Train in the Snow "When little hands join, everything can be done" and how much young people are willing to create, you will see it yourself from 7 to 10 September in Karlovac at 16th Youth Film Festival and 4th Four River Film Festival.
27. 7. 2011