14th Youth film Festival: Record number of entries!
Zagreb, 18 June – The deadline for entries in the 14th Youth Film Festival has ended. A record number of 95 high school film accomplishments has surpassed all our expectations. All the more so since this year there are thirty per cent more entries than for the previous edition. This only shows that with each year the festival is becoming increasingly important on the national film scene, and as such, a central destination for high school film.
Making sure that the festival transcends Croatian borders are the films entries coming from all corners of the world for the 2nd Four River Film Festival – YFF's international counterpart. The deadline for entries is 01 July.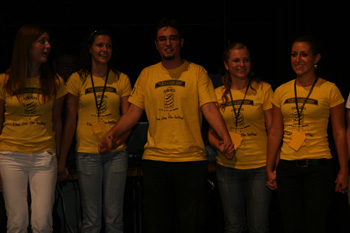 All in all, the selection jury consisting of long-time Festival's friends, director of photography Vedran Šamanović and animation artist Vjekoslav Živković, will have their hands full, of films, that is. The results of the deliberation that is ahead will be announced on the Festival's web site – www.hfs.hr - at the beginning of July.
The 14th Youth Film Festival and the 2nd Four River Film Festival, organized by the Croatian Film Clubs' Association and the Cinema Club Karlovac, will be held this year 10 – 13 September in Karlovac.