Dear young filmmakers
(and all those who consider themselves as such)!
The 14th Youth Film Festival will take place in early September (September 10 – 13, 2009) and for the third time it will be organized under the supervision of Croatian Film Clubs' Association and Cinema Club Karlovac, in the city on four rivers – Karlovac. At the same time Karlovac will host the second edition of the Four River Film Festival – international festival of high school film.
During these four days the city of Karlovac will welcome around a hundred high school students like you, not only from Croatia and the region, but from the entire world.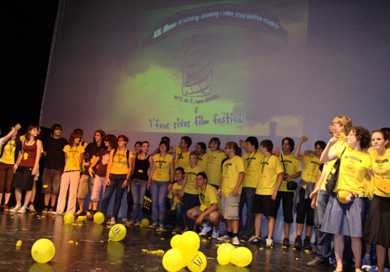 In addition to numerous great films in Karlovac (both in the official competition and in the side program) this year there will again be diverse workshops, a visit to a beautiful near-by area, performances by music bands from Karlovac and most of all, a great time!
So, from September 10-13 we expect you here in Karlovac – a hit place for high school film!