Film, glazba, književnost i snovi s Jonathanom Rosenbaumom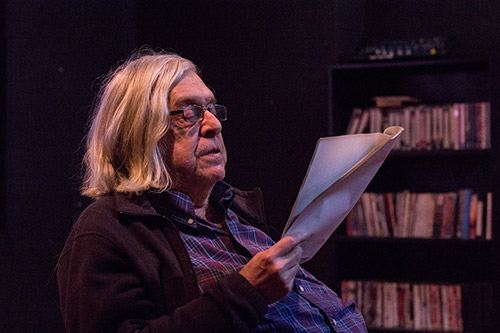 Pozivamo sve zainteresirane da prisustvuju diskurzivnom programu Film, glazba, književnost i snovi s Jonathanom Rosenbaumom u organizaciji Kino kluba Split.
Tematske diskusije održavat će se u periodu od 17. do 22. lipnja u večernjim satima s početkom u 19h u prostoru Kino kluba (Dom mladih, Ulica slobode 28) i bit će otvorene za javnost, dok će nekolicina zainteresiranih imati mogućnost pisati o filmovima pod Jonathanovim mentorstvom. Program će se održavati na engleskom jeziku.
Jonathan Rosenbaum radio je kao glavni kritičar Chicago Readera od 1987. do 2008. Autor je brojnih knjiga o filmu uključujući Film: The Front Line (1983), Placing Movies: The Practice of Film Criticism (1995), Moving Places: A Life at the Movies (1980; reprint 1995), Movies as Politics (1997) i Essential Cinema (2004), a njegova najpopularnija knjiga je Movie Wars: How Hollywood and the Media Limit What Movies We Can See (2002), pa sve do recentnih Cinematic Encounters: Interviews and Dialogues (2018) i Cinematic Encounters 2: Portraits and Polemics (2019). U svojoj izrazito plodnoj karijeri pisao je za brojne časopise, između ostalih za Cahiers du cinéma, The Village Voice, Film Comment i Sight & Sound. Predavao je na kalifornijskom Univerzitetu u San Diegu na poziv Mannya Farbera. Kao vanjski predavač predavao je film na Sveučilištu u Virdžiniji u Richmondu (2010-2012), te držao kolegije Svjetska kinematografija i Američki nezavisni i alternativni film na film.factory programu u Sarajevu od 2013 – 2015. Radio je kao konzultant na filmovima Orsona Wellesa Dodir zla (1958,Touch of Evil) i Druga strana vjetra (2018, The Other Side of the Wind). Redovno objavljuje tekstove na svom web site-u: jonathanrosenbaum.net
U 2020. držao je seriju predavanja o Orsonu Wellesu u filmskom centru Gene Siskel u Chicagu, a 2021. o Agnes Vardi. Angažiran je kao audiokomentator za Criterion (za filmove Građanin Kane i Veličanstveni Ambersoni s Jamesom Naremoreom, Like and Nothing More s Mehrnazom Saeed-Vafom) te je producirao eseje (tiskane ili audiovizualni) za Trafic, Another Gaze, Metrograph, MUBI, Criterion, Arrow Films, Cinema Scope, Caiman Cuadernos de Cine, Artforum i Cineaste. Recentni intervju s Jonathanom možete pročitati na poveznici.
Raspored diskusija:
17. 06. 2022, petak
THE DEVIL AND DANIEL WEBSTER (William Dieterle) + L'ARGENT trailer
Reading: https://gutenberg.net.au/ebooks06/0602901h.html
18. 06. 2022, subota
BAD LUCK BANGING OR LOONY PORN (Radu Jude, 2021)
Reading: "Dangerous Sex and Scattered Focus, Fifty Years Apart (WR: Mysteries of the Organism and Bad Luck Banging or Loony Porn)
19. 06. 2022, nedjelja
VAGABOND (Agnès Varda, 1985)
Reading: "Self-Indexing and Shifting Spectators in Varda's Vagabond"
20. 06. 2022, ponedjeljak
A BREAD FACTORY, PART ONE (Patrick Wang, 2018)
Reading: Introduction to IN DREAMS BEGIN RESPONSIBILITIES
21. 06. 2022, utorak
A BREAD FACTORY, PART TWO (Patrick Wang, 2018)
Reading: "Interactivity as Art and Vice Versa: A Bread Factory"
22. 06. 2022, srijeda:
BLACK AND TAN (Dudley Murphy, 1929) + WHEN IT RAINS (Charles Burnett, 1995) + FREE YOUR MIND (Jazzmeia Horn, 2020) + excerpt from James Joyce
Reading: "Anna Livia Plurabelle" (1929) + ANNA LIVIA PLURABELLE (André Hodeir, 2021)
Reading: "Anna Livia Plurabelle" by James Joyce + "Diminuendo and Crescendo in Film Criticism" (with Ehsan Khoshbakht)