BECOME A STAR OF THE INTERNATIONAL HIGH SCHOOL FILM FESTIVAL
Applications start for 17th Youth Film Festival & 5th Four River Film Festival
If you didn't catch the film fever last year, now is the right time to do so! The bug which all the film lovers catch every year, for six year in a row, is none other than the Youth Film Festival and the Four River Film Festival, organized by the Croatian Film Association and the Cinema Club Karlovac. The only symptom you have to recognize is the love of high school filmmaking. The 17th Youth Film Festival and the 5th Four River Film Festival will be held in Karlovac 12th -15th September.
Last year's edition of YFF and FRFF hosted over a 150 talented young filmmakers from 22 countries and showcased 84 films in the competition programme. Their diversity and richness came to the fore during the award ceremony for best films in the YFF and FRFF competitions. The main award, the Grand Prix, went to Danish film, Upside Down, a comedy about Danish social life. This year, the author of the film, Sara B. Pedersen, will be sitting on the Yellow Flag jury, deciding on the film that best deals with the subject of violence and encourages young people to stand up to it.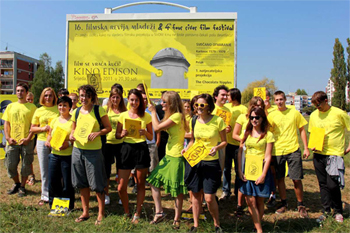 Yellow T-shirts, yellow balloons, yellow signs and the Yellow Flag award will make up the essential props at the festival's venues – Zorin Dom City Theatre, the Old Town Dubovac and the Youth Library. In addition to a chance to win the Grand Prix, the participants of YFF and FRFF will be able to participate in one of the creative and educational workshops and enjoy other diverse side programmes.
By sending in your festival application become a part of this four-day film event in which the main role is played precisely by you - high school filmmakers! Show your film, hang out and exchange experiences with your colleagues, participate in workshops and film debates. The application deadline is 1st June while you can find more information on our Facebook page FourRiver FilmFest or website www.hfs.hr.
See you at the 17th Youth Film Festival and the 5th Four River Film Festival! From 12th to 15th September in Karlovac!
12.03.2012