#09 From the FAS production: Independent Shorts I. 1967-1971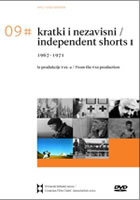 01 Ljudi (u prolazu) II / People (Passing) II
Lordan Zafranović, 11', 1967
02 Fokus / Focus
Ivan Martinac, 7' 12'', 1967
03 Poslije podne (puška) / Afternoon (The Gun)
Lordan Zafranović, 15' 11', 1968
04 Karanfil / Carnation
Ranko Kursar, 10', 1968
05 Ubrzanje / Acceleration
Ivan Martinac, 7' 14'', 1969
06 Hitch... Hitch... Hitchcock
Zoran Tadić, 6' 21'', 1969
07 Amerikanka / The American Woman
Zoran Tadić, 12'40'', 1970
08 Sve jedno drugo pojede / All Eat Each Other
Rajko Grlić, 11' 54'', 1971
Project of preservation and restoration: Carmen Lhotka
Digital restauration: Tomislav Vujnović, Robert Vidić, Nenad Sili - studio Vizije S.F.T.
On FAS
Films in this compilation are produced by Filmski autorski studio (Film Author Studio), a production house figuring in many legends among independent filmmakers, evoking nostalgia. Better known by its acronym FAS, it was the first independent film house in Croatia before independence, initiated in 1967 by the Croatian Cinema Association (today Croatian Film Clubs' Association), on the wings of enthusiasm that spread from Zagreb and Split cineclubs. Club "alternatives", who were then called "amateurs", wanted to make new, different films, in better, more professional and liberal environment, which was exactly what FAS founder and producer Kruno Heidler was offering. As the idea became real with first films – the first one was short documentary People (passing) II. by Lordan Zafranović, low-budget FAS became attractive to professionals to whom ideologically colored and bureaucratic cinema mainstream was too narrow-minded, so they turned to the Studio.
Unfortunately, enthusiasm in professional environment did not last long. FAS closed down in bankruptcy after six years (1973) with a final list of forty short and five feature films. The list includes praised short and long professional debuts and/or early works of Croatian and Slovenian authors (Franček, Grlić, Karpa Godina, Krelja, Kursar, Martinac, Mikuljan, Petek, Puhlovski, Radić, Ranfl,  Tadić, Zafranović...), titles of more experienced professionals (Hadžić, Majer, Relja, Sudović, Vunak…) and authors who distanced themselves from the production in the following decades choosing different careers, like film scholar Peterlić and cinema historian and politician Škrabalo. FAS has also opened doors to first domestic female directors (Ljiljana Jojić and Milica Borojević), but the list would also have included other more prominent authors, like Bauer, Berković or Ivanda, if only it had survived politically and economically ill-fated beginning of the Croatian 1970s.
Luckily enough, most of FAS films have survived, in forms of copies from which we are attempting to remove the deepest traces of time and digitally refresh them to be screened for new generations of domestic and foreign cinephiles. This compilation is a continuation of our mission to resurrect the most valuable parts of FAS's filmography of "different and independent" films, initiated by the publication of feature films Slučajni život (Accidental Life) and Živa istina (Real Truth) in the HFS's DVD edition.
(Diana Nenadić)

| | |
| --- | --- |
| Author | various authors |
| Title | #09 From the FAS production: Independent Shorts I. 1967-1971 |
| Impressum | Croatian Film Association, Zagreb, 2011. |
| Description | DVD |
You can buy or order DVD from:
CROATIAN FILM ASSOCIATION
address
Tuškanac 1
HR - 10000 ZAGREB
tel/fax
(385 01) 48 48 771, 48 48 764
e-mail
kristina@hfs.hr