#08 Real Truth
Tomislav Radić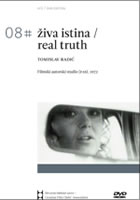 Film Real Truth intriguingly intertwines fictional and life story of actress Božidarka Frait. Shot in the cinéma vérité style with a large dose of improvisation, the film was almost a revolutionary step forward in a pretty stiff and ideologically colored Croatian cinematography of the early 1970s. Disregarded and misunderstood at the beginning, today it is valued as one of best Croatian films from the period and one of the most successful authorial débuts in Croatian cinema.

Directed & Screenplay by : Tomislav Radić
Camera: Dragutin Novak
Music: Arsen Dedić
Editing: Maja Filjak-Bilandžija
Art Direction: Tomislav Radić
Producer: Krunoslav Heidler
Cast: Božidarka Frait, Roza Rosoci, Vesna Veselić, Zlatica Dubravčić, Irena Uhl, Verica Podolšak, Zdenka Livajić, Inge Grandić, Vjeran Zuppa, Stipe Bilobrk, Branko Supek, Branko Ivanda, Astrid Turina, Mira Wolf, Marlena Hohnjec, Ignac Pavković i dr.
Year of production: 1972
Running time: 77 minutes
Production: Filmski autorski studio (FAS)
Project of preservation and restoration: Carmen Lhotka
Digital restoration
studio Vizije S.F.T.
Extras: Real Truth About Real Truth

| | |
| --- | --- |
| Author | Tomislav Radić |
| Title | REAL TRUTH |
| Impresum | Croatian Film Association, Hrvatska kinoteka – Hrvatski državni arhiv, 2010. |
| Description | DVD |
You can buy or order DVD from:
CROATIAN FILM ASSOCIATION
address
Tuškanac 1
HR - 10000 ZAGREB
tel/fax
(385 01) 48 48 771, 48 48 764
e-mail
kristina@hfs.hr